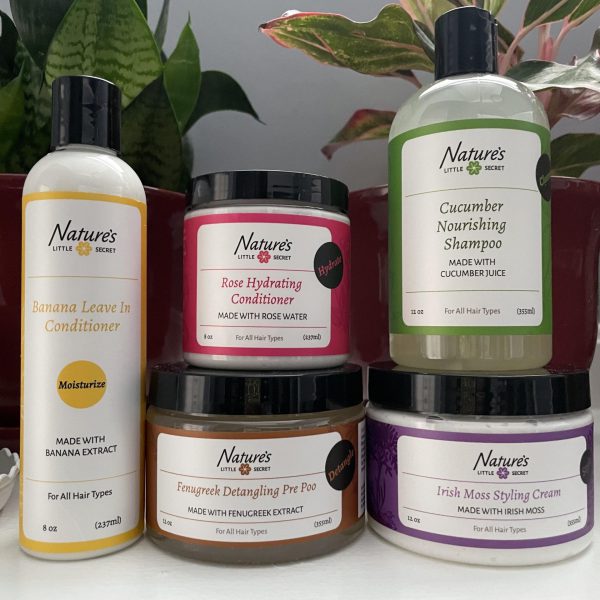 The curlfriends love Nature's Little Secret so I had to give them a try honey!
Let's get into my Nature's Little Secret products review:
Fenugreek Detangling Pre Poo – I used this pre poo on dry hair. It is super moisturizing, has great slip, and had my hair feeling and looking amazing! Like girlll the curls were popping so much I'll be posting a stand-alone reel so y'all can see what I saw cuz y'all need to see
Cucumber Nourishing Shampoo – this shampoo was amazing. Make sure you use a small amount because honey I went too far and had shampoo everywhere. But this shampoo is moisturizing, smells good, and made my hair happy. 
Rose Hydrating Conditioner – this conditioner was great, my hair likes it a lot. It's thick but not too thick, it's perfect. I was able to finger detangle immediately which is what I like. 
Banana Leave In Conditioner –  this leave-in was good, added moisture to my hair for sure, and smells just like a fresh banana. 
Irish Miss Styling Cream – this cream was also good and left my hair feeling nice. I twisted my hair up and once I took them down my hair had excellent definition and shine. 
Overall, the girls were right! These products are worth it!
If you haven't tried Nature's Little Secret yet get yourself some! They will not disappoint.
Follow @coilydiva for more natural hair content
Thank you for visiting. Don't forget to subscribe!