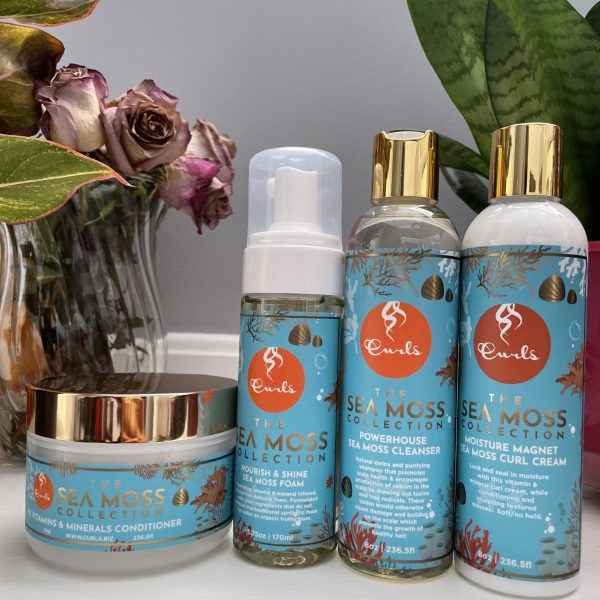 Finding the best shampoo and conditioner for your curly hair can be a daunting task. With so many options on the market, it's hard to know which products will work best for your unique hair type. If you're looking for a shampoo and conditioner that will leave your curls looking and feeling their best, look no further than the Curls Sea Moss Collection.
Powerhouse Sea Moss Cleanser:
This shampoo is great it felt very silky in my hair. I was like "wow this is different." It's not stripping at all and it made my scalp and hair happy.
92 Vitamins & Minerals Conditioner:
This deep conditioner was good. My hair enjoyed it. I could detangle it easily after letting it sit in my hair for about 15 minutes. After rinsing it out my strands felt really good!
Moisture Magnet Sea Moss Curl Cream:
I used this cream as a leave-in. It was amazing and my hair loved it. It made my hair really soft and manageable as it's very moisturizing.
Nourish & Shine Sea Moss Foam:
This foam was good! I did my first twist out using a foam and it did not disappoint. It actually made my hair faster to twist for some reason as I'm thinking about it. Also, the drying time was cut in half. 
Overall, these products were great I will be using all of them. I recommend you try these if you're considering
The Sea Moss Collection is a great option for those with curly hair looking for a shampoo and conditioner that will leave their curls looking and feeling their best. With four different products to choose from, there's sure to be an option that's perfect for your individual needs. So why wait? Give the Sea Moss Collection a try today! 
Thank you for reading!
Thank you for visiting. Don't forget to subscribe!